PRO Athlete - Recovery
Maximum performance, regeneration and flow
Guarantee 0.0% THC Also suitable for professional athletes. Activates the endocannabinoid system, thereby supporting the immune system and beneficially acting on the body's natural processes, helping the immune system to be in balance. According to studies, it has a demonstrable effect on anxiety or depression, positively stimulates the brain and more. Our elixirs with CBD harmonize the natural processes in the body, have a positive effect on heart rate, cholesterol levels, skin condition, muscle and joint function.






Our elixirs are 100% natural, without the use of genetically modified plants.
Moia elixirs CBD Gold Spray is an excellent food supplement for top athletes with high performance.
Country of manufacture: Czech Republic
Ingredients: CBD, MCT oil
Volume: 10ml (approx. 83 doses)
Weight: 9.5g (CBD content 1975mg + -5%)
Helps to support:
liver activity
normal digestion
has an anti-inflammatory effect
normal skin condition
normal condition of muscles and tendons
normal condition of the joints and bones
immune system (antioxidant)
normal function of the nervous system
activities of the cardiovascular systém
Dosage:
1 dose once a day (then dose individually at your discretion).
30 minutes before meals. Drip under the tongue, wait 30 seconds, then swallow.
Notice:
Also suitable for vegans.
Keep out of reach of children.
Store in a cool, dark place.
It is not a substitute for a varied diet.
Suitable for external and internal use.
Do not exceed the recommended daily dose.
If you are taking medication or planning a medical procedure, consult your doctor before taking it.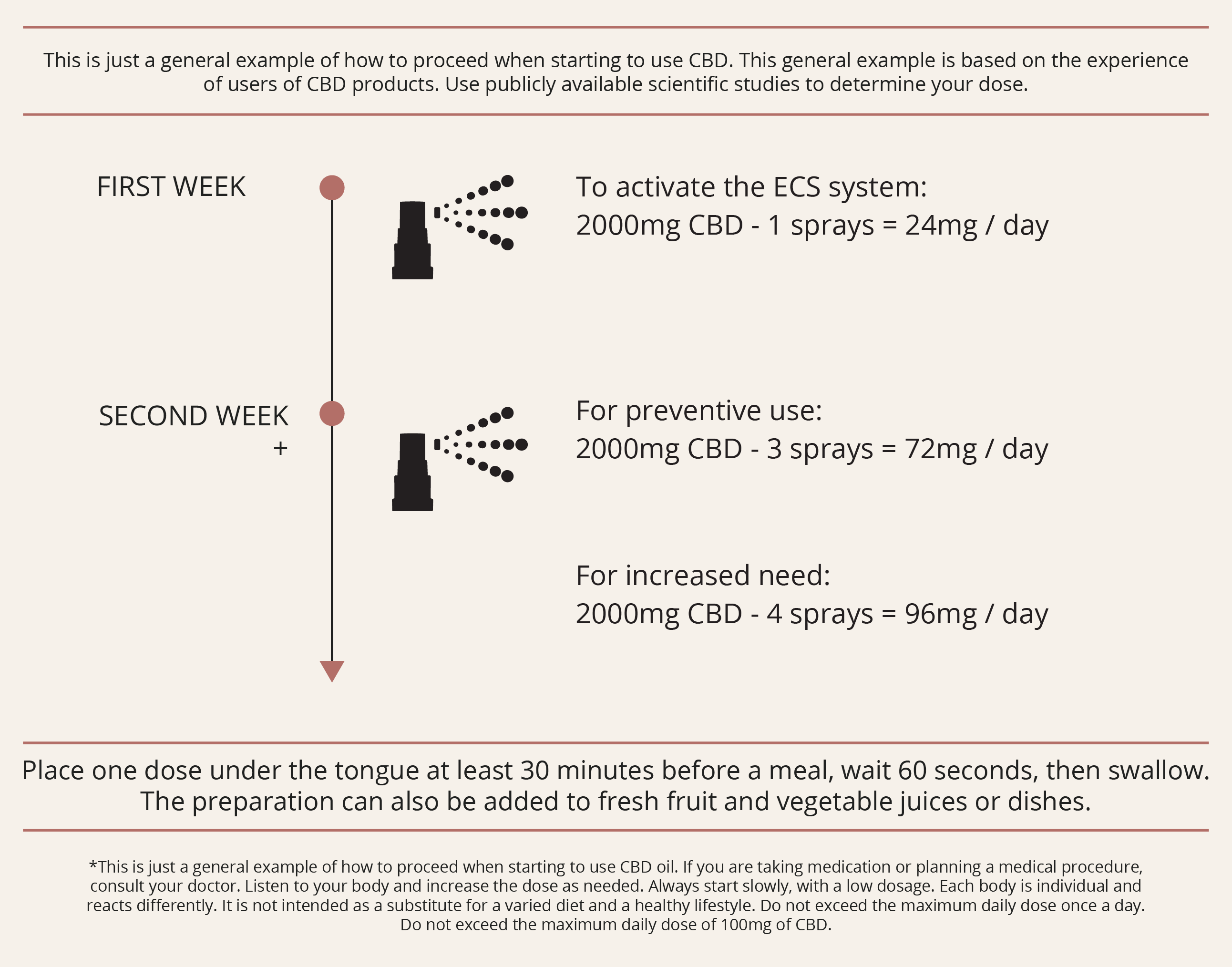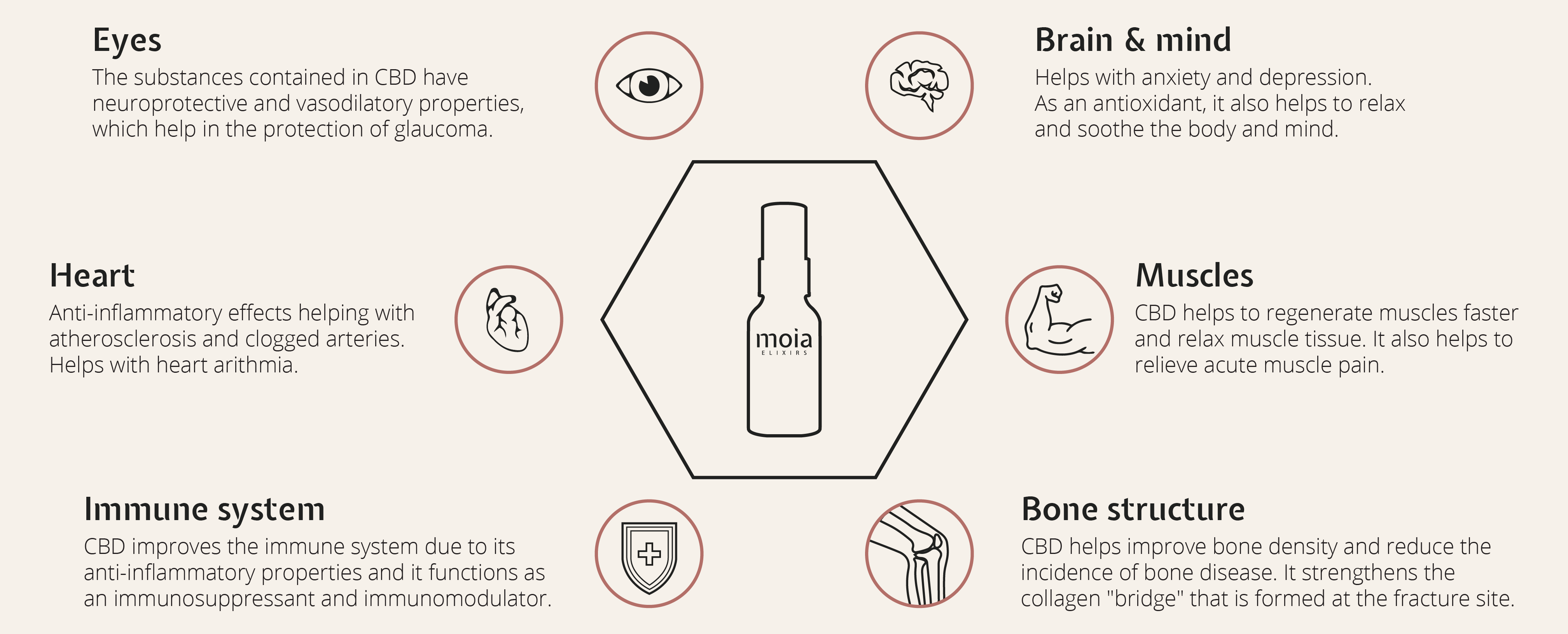 * This is an illustrative design image only, the information shown is based on publicly available scientific studies.
Possible side effects when exceeding the recommended dose:
Dry mouth,

Nausea,

Headache.
More information
According to the decision of the CAFIA - State Health and Food Inspection Authority, CBD MCT oil is sold by CANNAX Laboratories s.r.o. registered in accordance with the provisions of § 3d para. b) Act No. 180/2016 Coll., on food and tobacco products and on amendments to some related acts, as amended by the Ministry of Agriculture - Ministry of Agriculture as a safe food supplement, which is governed by Decree No. 58/2018 Coll. - Decree on food supplements and food composition. The content of THC - Tetrahydrocannabinol and the dosage of oil is referred to by EFSA - European Food Safety Authority 2015, specifically to the Acute Reference Dose (ARfD) and thus meets the European recommended limits. The European Food Safety Authority (EFSA) is the European Union's authority responsible for risk assessment in the areas of food and feed safety, nutrition, animal health and welfare, plant health and plant health. EFSA is based on EIHA documentation on the content of THC in food in Europe - European Cannabis Industry Association see document: Scientifically Sound Guidelines for THC in Food in Europe nova-Institute July 2015 EFSA's management, measures and decisions 2015 shows that CBD MCT oil from CANNAX Laboratories sro is a notified food supplement that meets all legal obligations under the EU. The products are made from certified varieties of technical hemp and are regularly checked for cannabinoid contents at independent certified laboratories. Moia elixirs do not claim any therapeutic effects of CBD, this information comes from publicly available scientific studies, research and stories of individuals in real life, we communicate this information in order to inform everyone around us what positive effects of CBD can have. THC content is below detection 0.05% * Moia elixirs products have not been evaluated by the State Institute for Drug Control and are not intended to diagnose, treat, cure or prevent any disease or medical condition.
Basic examples of publicly available scientific studies on the potential of using Cannabinoids for the given problems. The listed list of publicly available scientific studies is for informational purposes only and is based on the researcher's scientific research on the issue under investigation. It is not a substitute for medical advice. The results of public studies on CBD dietary supplements have not been evaluated by the National Institute for Drug Control and are not intended to diagnose, treat or prevent any disease or medical condition. It is not intended as a substitute for a varied diet and a healthy lifestyle.
1 ) 2013 Functioning of the ECS Endocannabinoid System:
https://www.ncbi.nlm.nih.gov/pmc/articles/PMC3997295/
2) 2015 CBD as a helper in childhood epilepsy / Lennox-Gastaut syndrome
https://pubmed.ncbi.nlm.nih.gov/25935511/
3) 2017 Update CBD, safety of use and possible side effects
https://www.ncbi.nlm.nih.gov/pmc/articles/PMC5569602/
4) 2018 World Anti-Doping Agency WADA removed CBD from the list of prohibited substances
https://www.wada-ama.org/sites/default/files/2022-09/2023list_explanatory_list_en_final_26_september_2022.pdf
5) 2019 CBD as a helper for anxiety and sleep disorders
https://www.ncbi.nlm.nih.gov/pmc/articles/PMC6326553/
6) 2018 - 2020 CBD as a pain reliever - analgesic potential, neuropathic pain, inflammatory pain, arthritic pain
https://www.ncbi.nlm.nih.gov/pmc/articles/PMC7700528/
https://www.ncbi.nlm.nih.gov/pmc/articles/PMC6277878/#sec-25title
7) 2020 Cannabinoids in metabolic syndrome problems
https://www.ncbi.nlm.nih.gov/pmc/articles/PMC7480733/
8) 2020 Antioxidant and anti-inflammatory functions of CBD
https://www.ncbi.nlm.nih.gov/pmc/articles/PMC7023045/
9) 2020 Therapeutic Potential of CBD for Skin Problems
https://www.ncbi.nlm.nih.gov/pmc/articles/PMC7736837/
10) 2020 - 2021 CBD as a regeneration booster after intense stress during professional sports
https://www.ncbi.nlm.nih.gov/pmc/articles/PMC8469280/#sec5-nutrients-13-03028title
https://sportsmedicine-open.springeropen.com/articles/10.1186/s40798-020-00251-0
11) 2022 CBD as an aide in cancer treatment
https://www.ncbi.nlm.nih.gov/pmc/articles/PMC8869992/
https://www.ncbi.nlm.nih.gov/pmc/articles/PMC9654506/
12) 2022 CBD as a helper in rheumatic problems and musculoskeletal pain
https://www.ncbi.nlm.nih.gov/pmc/articles/PMC9062628/
13) 2022 CBD as a potential helper in neurodegenerative disease
https://www.ncbi.nlm.nih.gov/pmc/articles/PMC9640911/