ABOUT CBD
The abbreviation CBD refers to the natural active substance cannabidiol, obtained from the plant called cannabis sativa (lat. Cannabis sativa). Cannabidiol has come to the fore due to its positive effects on the functioning of the human organism, psyche, and skin condition.
CBD works in the endocannabinoid system (ECS), which every mammal has in their body. The ECS participates in the control of vital functions such as immunity, the ability to regenerate, food intake, temperature regulation, and, for example, reproductive functions. The World Health Organization (WHO) has already confirmed the positive effects on human and animal organisms, and it is because of this that CBD has a promising future in the modern world. CBD is currently the most tested natural substance in the world in terms of the number of clinical studies conducted.
Publicly available studies, reviews, and customer experiences have proven the effects of CBD in the following cases:
immune support
anti-inflammatory properties
acne
insomnia
stress reduction
menstrual pain
Alzheimer's disease
pain reduction
ADHD in children
roads
autism
suppressing the manifestations of epilepsy
Parkinson's disease
type 1 diabetes
Tourette syndrome
glaucoma
Is it legal to use CBD?
Yes, CBD is not psychoactive and therefore does not cause intoxication, but draws on the medicinal potential of cannabis and its positive effects on human health. The production of CBD is controlled and supervised by the Ministry of Health of the Czech Republic, which grants a license for this business activity under strict conditions. CBD is produced from legal cannabis sativa varieties that contain a minimum of THC, and a maximum of 0.2%, such material for processing is legal in most states of the European Union.
How does CBD work?
CBD stimulates the endocannabinoid system to help solve problems found in the body. This brings the organism back to the balance of the so-called homeostasis. In more technical terms, CBD binds to the endocannabinoid system in the body through the cell receptors CB1 and CB2 and helps coordinate the body's defenses, trigger auto-regeneration processes, and encourage cells to accelerate the renewal process. CBD exhibits similar abilities to adaptogens.
What is CBD used for?
The effects of CBD can be used to care for the skin, to help solve skin problems, to help speed up muscle regeneration, and also as a supplement to the classic treatment of more serious diseases. Based on scientific studies and findings, CBD already shows very favorable results in problems such as cancer, epilepsy, diabetes, motor disorders, nicotine addiction, Crohn's disease, insomnia, post-traumatic stress disorder, Parkinson's and Alzheimer's disease, chronic and neuropathic pain, obsessive-compulsive disorder or osteoporosis.
How much CBD should be taken?
The effectiveness of CBD depends on the amount or concentration. When the ECS is stimulated by a certain amount of CBD, CBD binds to the receptors and thus activates the activity of the mentioned receptors, which have the task of maintaining homeostasis in the body. According to publicly available studies, the different dosage for the given problem is crucial. It is therefore always necessary to think about the difference in dosage according to the type of problem and to adapt your dosage individually based on this.
Here is an example, read from publicly available CBD dosing studies, that researchers have used to determine the therapeutic effects of CBD for various indications:
Intestinal inflammation: 10 mg/day
Pain and recovery: 50 to 600 mg/day
Anxiety: 300 to 600mg/day
Epilepsy: 10 mg per kg of body weight/day
Cancer and related pain: 50 to 600 mg/day
Type 2 diabetes: 75-200mg/day
Mental difficulties: 400 to 600mg/day
Parkinson's disease: 75 to 300 mg/day
Nervous system disease: 75 to 300 mg/day
Mental difficulties: 600 mg/day
Why do we combine CBD with other substances?
The main ingredient is cannabidiol (CBD), which we combine with active patented substances, premium care oils, stem cells, hyaluronic acid, minerals from Karlovy Vary, and other rare ingredients for greater effectiveness. We balance the ratio of ingredients and composition in such a way that the preparations cope with specific problems. In this way, unique recipes are created that actively communicate with the organism and the skin for the given indication.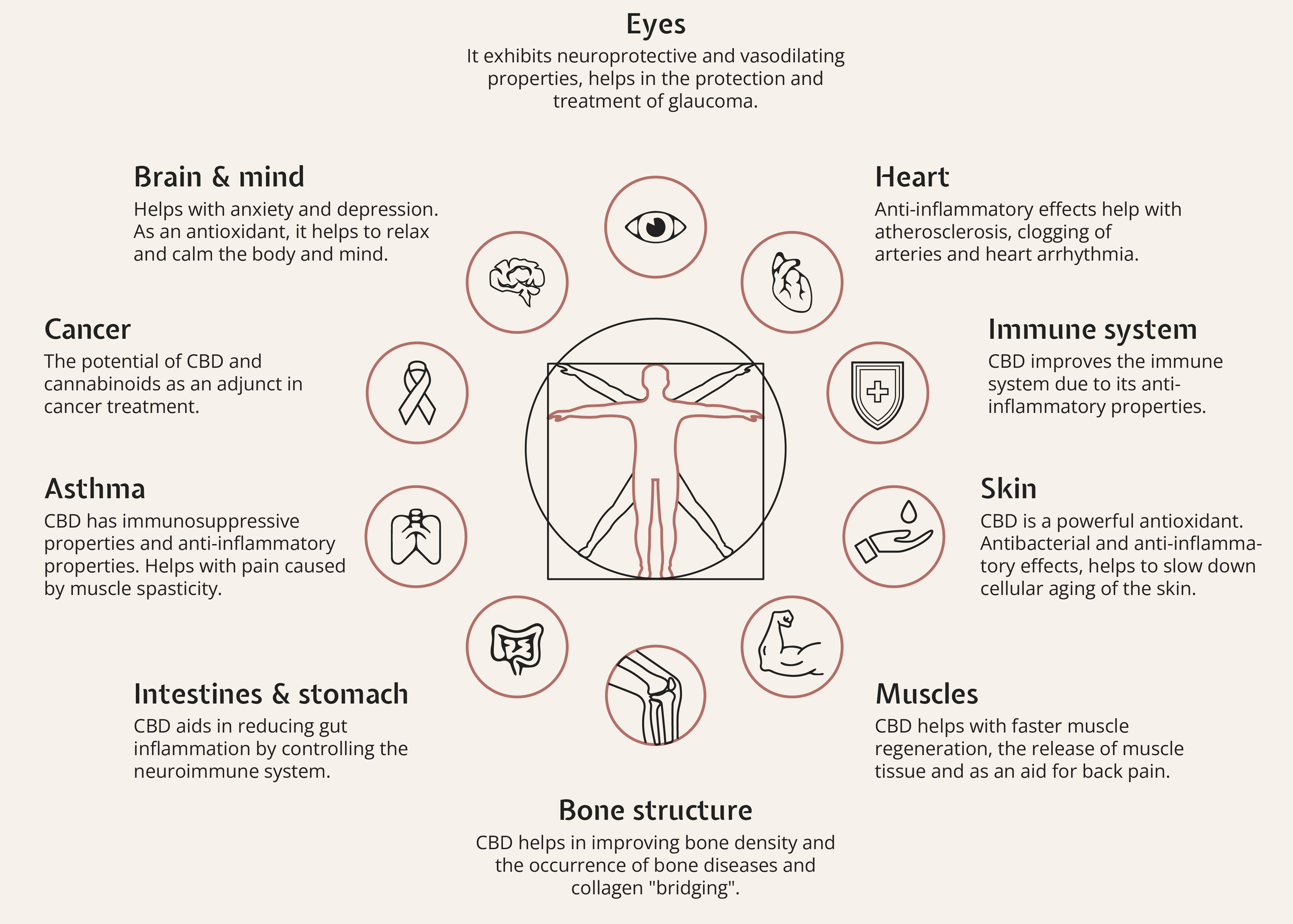 * This is an illustrative design image only, the information shown is based on publicly available scientific studies.
CBD and its effect on the skin?
CBD shows very positive effects on skin problems or cellular aging of the skin.
Sensitive Skin - CBD helps soothe, normalize, and minimize skin sensitivity symptoms such as redness, itching, and tightness. CBD is therefore also suitable for sensitive skin and keeping it in optimal condition.
Aging skin - CBD is a powerful antioxidant, based on an available study, CBD is involved in slowing down the cellular aging of the skin. It keeps the skin firm, supple and fresh.
Acne-prone skin - CBD reduces sebum production, plus it has antibacterial and anti-inflammatory effects that help minimize skin changes caused by inflammation.
Dry skin - Omega 3, 6, and 9 fatty acids and gamma-linolenic acid retain water in the skin. Hydrated skin is more flexible, fresher, and feels rested.
Psoriasis - CBD has anti-inflammatory effects, balances the function of the immune system, and helps to slow down the process of cell division, thereby improving the condition of the affected skin.
Atopic dermatitis - This skin disease occurs mainly in children and is manifested by unpleasant itching and redness. CBD restores balance to the skin and helps eliminate symptoms.
Seborrheic dermatitis - A chronic inflammatory skin condition that is caused by increased sebum production. It affects the skin of the face and head. CBD slows the secretion of sebum and the reproduction of sebocytes - the cells that make up the sebaceous glands.
Effects of CBD on the organism and dosage?
Expert research and studies prove that CBD has polypharmacological or broad-spectrum effects and has a positive effect on the entire organism.
Published studies demonstrate the therapeutic effects of CBD for these indications. The dosage is understandably different for each of them. In general, it can be said that for less serious problems, a daily dose in the range of 10 - 100 mg of CBD may be sufficient. However, for more serious problems, you can count on a dosage of 100 - 500 mg of CBD per day. Higher doses can be taken individually, according to the available statement from the World Health Organization (WHO), it says that even a dosage of 1500 mg is tolerated by the human body without serious problems or the potential for addiction.
Sleep Disorders
anxiety
migraines
menopause
depression
fibromyalgia
weight loss
attention deficit hyperactivity disorder (ADHD)
According to the World Health Organization's WHO report, research has suggested that CBD may also have therapeutic benefits for the following conditions:
inflammatory diseases
Huntington's disease
Parkinson's disease
multiple sclerosis
rheumatoid arthritis
psychosis
pain
diabetic complications
hypoxia-ischemic damage
cardiovascular disease
Alzheimer's disease
nausea
inflammatory bowel disease
The general rule of thumb for dosage is to start with a smaller dosage and then increase the dosage as needed.
If you are starting with CBD, we definitely recommend starting with a smaller dose, for example 10% CBD: 1 drop 1-2 times a day, and later you can start increasing according to your needs and specific indications - depending on your reaction and how you feel. It may also take some time for CBD to take effect. You will usually be able to notice the first noticeable results in the second (2nd) week of use. When using CBD, listen to your body and notice how you feel (you can keep a diary about your dosage) when you start to feel better while using it, you know you have found your ideal dosage, you can stay with this dosage.
Factors that can directly affect the dosage?
Several factors can affect the dosage. It is necessary to know that we are different and each body will need a different dosage.
In general, people who weigh less should take lower doses than heavier people, so weight becomes the primary factor in determining the ideal dose.
Care must also be taken when using alcohol or other CNS (central nervous system) depressants, in combination with CBD, the overall sedative effect may increase. People who take antidepressants or drugs that cause drowsiness should not use CBD.
If you need more information or if you are not sure whether CBD is suitable for you, write to us at info@moiaelixirs.com, we will be happy to advise you.
Dosage:
1 dose 1x a day (then dose individually at your own discretion).
Min. 30 minutes before meals. Drop under the tongue, wait 30 seconds, then swallow.
It is also suitable to add to fresh fruit and vegetable juices or your own dishes
Notice:
It is not a substitute for a varied diet.
Store out of reach of children.
Store in a cool, dark place.
If you are taking medication or planning a medical procedure, consult your doctor.
Not intended for children and young people, pregnant and lactating women.
Do not exceed the recommended daily dose.
Also suitable for vegans.
Suitable for external and internal use.
Possible side effects when exceeding the recommended dose:
Dry mouth,
Nausea,
Headache.
* Unfortunately, we cannot provide additional information about this product related to the effects of the cannabis ingredients, as this would be a health claim that we cannot publish under Regulation (EC) No. 1924/2006 of the European Parliament and of the Council. We can only publish health claims that have been approved by the European Commission. All content is for general informational purposes only. Cannax Laboratories s.r.o. assumes no responsibility for the correctness of the information contained in this information site, makes no representations, and this information is subject to change without prior notice. We encourage you to consult information obtained from or through this website with other sources and discuss it with your doctor. Cannax Laboratories s.r.o. does not claim that the effects of CBD are medicinal. This information comes from publicly available studies, research, and stories from real-life individuals.
Basic examples of publicly available scientific studies on the potential of using Cannabinoids for the given problems. The listed list of publicly available scientific studies is for information purposes only and is based on the scientific research of the given researcher in the indicated indication. It is not a substitute for medical advice. Always consult your doctor before using CBD. The results of public studies on CBD dietary supplements have not been evaluated by the National Institute for Drug Control and are not intended to diagnose, treat or prevent any disease or medical condition. It is not intended as a substitute for a varied diet and a healthy lifestyle.
1 ) 2013 Functioning of the ECS Endocannabinoid System:
https://www.ncbi.nlm.nih.gov/pmc/articles/PMC3997295/
2) 2015 CBD as a helper in childhood epilepsy / Lennox-Gastaut syndrome
https://pubmed.ncbi.nlm.nih.gov/25935511
3) 2017 Update CBD, the safety of use, and possible side effects
https://www.ncbi.nlm.nih.gov/pmc/articles/PMC5569602/
4) 2018 World Anti-Doping Agency WADA removed CBD from the list of prohibited substances
https://www.wada-ama.org/sites/default/files/2022-09/2023list_explanatory_list_en_final_26_september_2022.pdf
5) 2019 CBD as a helper for anxiety and sleep disorders
https://www.ncbi.nlm.nih.gov/pmc/articles/PMC6326553/
6) 2018 - 2020 CBD as a pain reliever - analgesic potential, neuropathic pain, inflammatory pain, arthritic pain
https://www.ncbi.nlm.nih.gov/pmc/articles/PMC7700528/
https://www.ncbi.nlm.nih.gov/pmc/articles/PMC6277878/#sec-25title
7) 2020 Cannabinoids in metabolic syndrome problems
https://www.ncbi.nlm.nih.gov/pmc/articles/PMC7480733/
8) 2020 Antioxidant and anti-inflammatory functions of CBD
https://www.ncbi.nlm.nih.gov/pmc/articles/PMC7023045/
9) 2020 Therapeutic Potential of CBD for Skin Problems
https://www.ncbi.nlm.nih.gov/pmc/articles/PMC7736837/
10) 2020 - 2021 CBD as a regeneration booster after intense stress during professional sports
https://www.ncbi.nlm.nih.gov/pmc/articles/PMC8469280/#sec5-nutrients-13-03028title
https://sportsmedicine-open.springeropen.com/articles/10.1186/s40798-020-00251-0
11) 2022 CBD as an aide in cancer treatment
https://www.ncbi.nlm.nih.gov/pmc/articles/PMC8869992/
https://www.ncbi.nlm.nih.gov/pmc/articles/PMC9654506/
12) 2022 CBD as a helper in rheumatic problems and musculoskeletal pain
https://www.ncbi.nlm.nih.gov/pmc/articles/PMC9062628/
13) 2022 CBD as a potential helper in neurodegenerative disease
https://www.ncbi.nlm.nih.gov/pmc/articles/PMC9640911/