Nourishing skin serum - 300mg CBD / 30ml
CBDerma-Repair® Active Oil Serum with a complex of vitamins, antioxidants and CBD. Nourishes and protects your skin from damage by a wide range of free radicals.
Strong antioxidant properties

Deeply hydrates

Restores skin brightness

Increases the firmness and elasticity of the skin

Protects against oxidative stress
* effects of active substances are clinically tested * 100% ingredients of natural origin.
CBDerma-Repair® Active Oil Serum
A wide range of Vitamins, to nourish and protect your skin.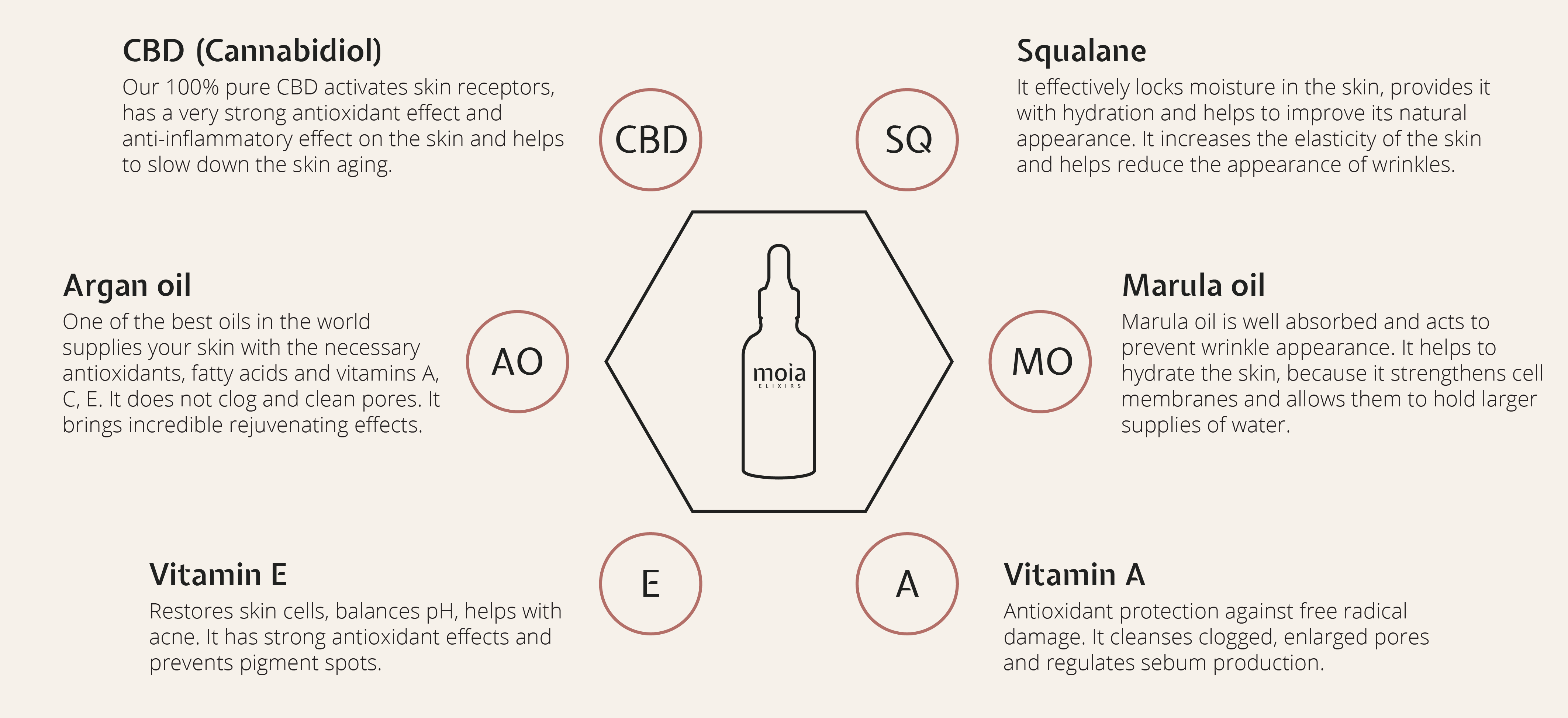 For healthy and radiant skin, MOIA ELIXIRS® supplies
Your skin needs active ingredients, vitamins and antioxidants.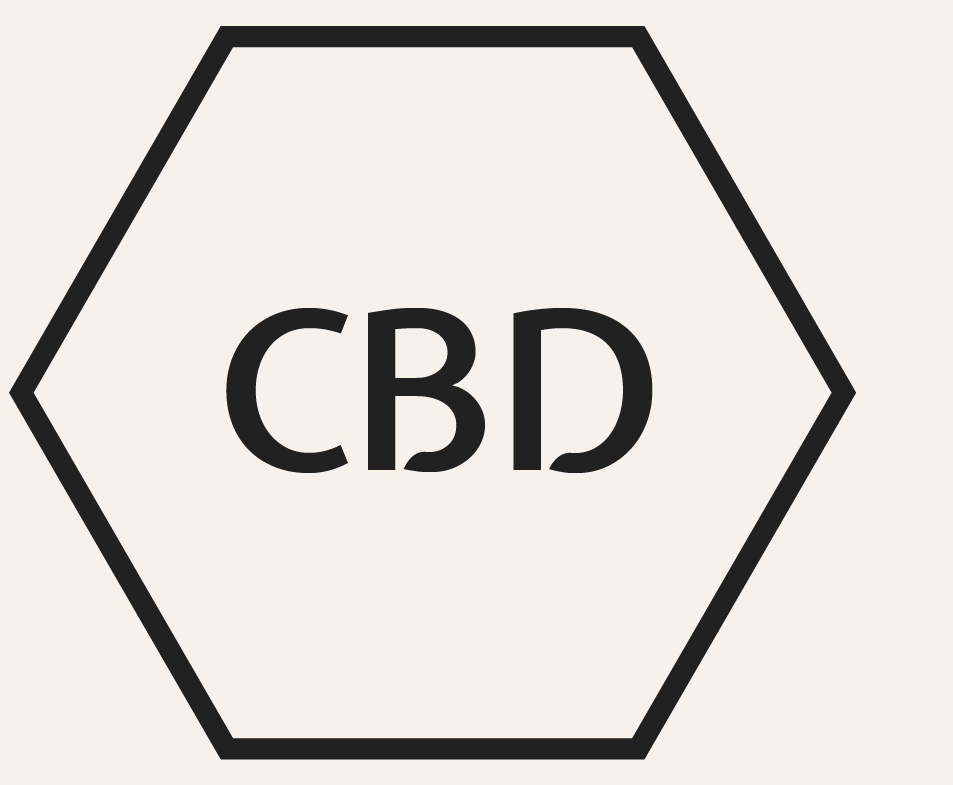 Cannabidiol, or CBD, is a natural substance found in the Cannabis Sativa cannabis plant. It has no psychotropic effects, cannabinoids cooperate with your organism at the cellular level to help restore your immunity, improve the condition of your skin and overall health. CBD naturally interacts with our body thanks to our endocannabinoid system in our bodies and can help regulate our cellular functions. CBD also has antioxidant properties and helps fight inflammation and acne.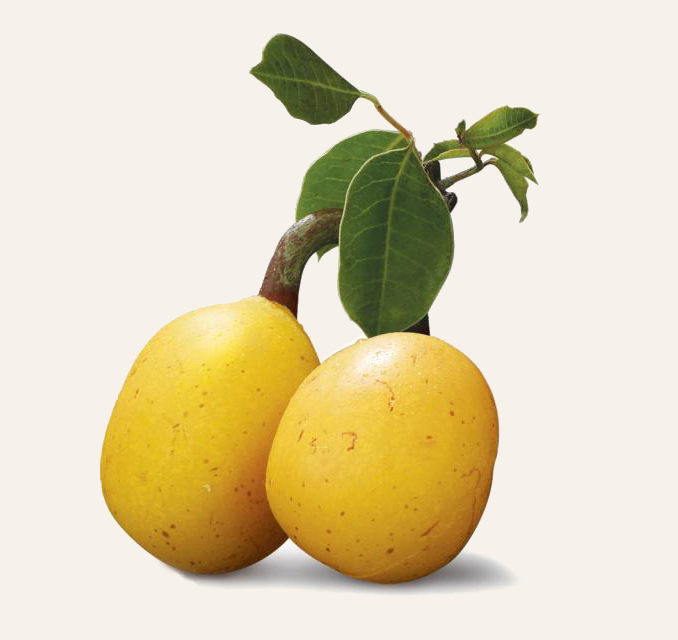 Marula oil is well absorbable and acts as a prevention of wrinkle appearance. It helps hydrate dry skin because it contains a high percentage of polyunsaturated fatty acids, which strengthen cell membranes and allow them to hold larger supplies of water. Marula oil also contains a huge amount of flavonoids, vitamin C, which strengthens the immune system, and many other important antioxidants. It also contains omega-6 and omega-3 fatty acids, which are the key to healthy skin - support wound healing, restore skin structure and hydrate the skin.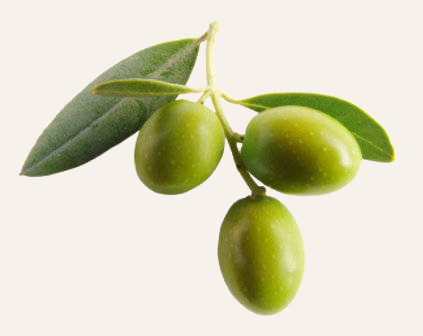 Squalane looks like an oil, it has the properties of an oil, but it is not quite a classic oil. It is an oil that is not greasy. This intensive and special dry oil with maximum absorption gives the skin a healthy tone and a youthful expression. It effectively locks moisture in the skin, provides it with hydration and helps to improve its natural appearance. It increases the elasticity of the skin and helps reduce the appearance of wrinkles. It locks in moisture in the skin, softens it, softens it and helps to improve its natural appearance.
More information
Effects:
Helps nourish and hydrate the skin

Helps restore skin brightness

Regenerates, renews and deeply hydrates

CBD activates the natural abilities of cells

Increases skin firmness, elasticity and density

CBD positively stimulates skin cells

Reduces fine lines and fills in deep wrinkles

CBD leads cells to total skin rejuvenation
Active substances:
CBD 300mg
squalane
mulberry oil
Argan oil
vitamin A
vitamin E
omega 3 and 6
Ingredients:
Squalane, Hydrogenated Polyisobutene,

Sclerocarya Birrea Seed Oil, Oleyl Erucate, Prunus Amygdalus Dulcis Oil Simmondsia Chinensis Seed Oil , Argania Spinosa Kernel Oil, Cannabidiol , Tocopherol Glycine Soja Oil

Caprylic/Capric Triglyceride, Laminaria Ochroleuca Extract Sucrose Stearate
Application:
Apply serum to cleansed facial skin in the morning and evening. Heat 2-3 drops between your fingers and spread on the skin with gentle smooth movements or tap. Can also be used on the skin around the eyes.