5% CBD drops for animals 10ml
Natural CBD oil for animals is the ideal veterinary supplement for your loved pets. Like humans, animals have an endocannabinoid system that performs many important functions in the body, which our CBD products help, thereby supporting the body's defenses and beneficial to the body's natural processes. CBD has strong anti-inflammatory effects and helps your pet fight anxiety, seizures, or relieve pain.






Thanks to a unique recipe, our elixirs are
a first-class accessory for the best care of your pet.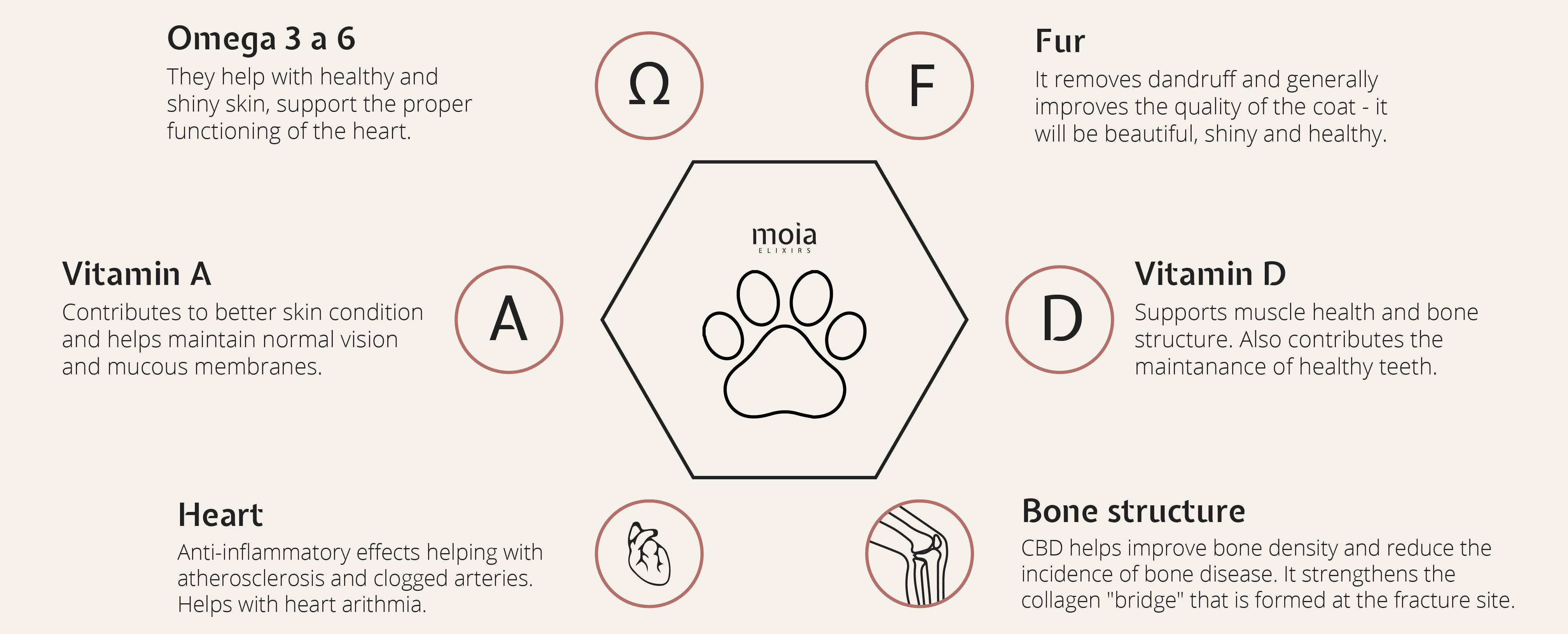 More information
Country of manufacture : Czech Republic
Ingredients: Fullspectrum CBD, MCT olej, Salmon oil
Volume: 10ml (cca 250 drops)
Weight: 9,5g (Volume CBD 295mg +-5%)
Helps with:
immune system (antioxidant)

normal digestion

normal condition of muscles and tendons

liver activity

the activity of the cardiovascular system

the normal condition of joints and bones

the normal function of the nervous system

has an anti-inflammatory effect
Dosage:
1 drop once a day (then dose individually at your discretion).
Application:
We recommend that your pet drip oil directly into his mouth for the best effects, but it can also be added to the diet you normally give your pet. Just drip and stir in a bowl.
Notice:
It is not a substitute for a varied diet.

Suitable for animals from 10 kg to 50 kg

Keep out of reach of children.

Store in a cool, dark place.

If you are taking medication or planning a veterinary procedure, consult your veterinarian for use.

Not intended for children and adolescents, pregnant and lactating women.

Do not exceed the recommended daily dose.

Also suitable for vegan animals

Suitable for external and internal use.
According to the decision of the CAFIA - State Health and Food Inspection Authority, CBD MCT oil is sold by CANNAX Laboratories s.r.o. registered in accordance with the provisions of § 3d para. b) Act No. 180/2016 Coll., on food and tobacco products and on amendments to some related acts, as amended by the Ministry of Agriculture - Ministry of Agriculture as a safe food supplement, which is governed by Decree No. 58/2018 Coll. - Decree on food supplements and food composition. The content of THC - Tetrahydrocannabinol and the dosage of oil is referred to by EFSA - European Food Safety Authority 2015, specifically to the Acute Reference Dose (ARfD) and thus meets the European recommended limits. The European Food Safety Authority (EFSA) is the European Union's authority responsible for risk assessment in the areas of food and feed safety, nutrition, animal health and welfare, plant health and plant health. EFSA is based on EIHA documentation on the content of THC in food in Europe - European Cannabis Industry Association see document: Scientifically Sound Guidelines for THC in Food in Europe nova-Institute July 2015 EFSA's management, measures and decisions 2015 shows that CBD MCT oil from CANNAX Laboratories sro is a notified food supplement that meets all legal obligations under the EU. The products are made from certified varieties of technical hemp and are regularly checked for cannabinoid contents at independent certified laboratories. Moia elixirs do not claim any therapeutic effects of CBD, this information comes from publicly available scientific studies, research and stories of individuals in real life, we communicate this information in order to inform everyone around us what positive effects of CBD can have. THC content is below detection 0.05% * Moia elixirs products have not been evaluated by the State Institute for Drug Control and are not intended to diagnose, treat, cure or prevent any disease or medical condition.