Resurfacing Velvet AHA Exfoliator
Exfoliate your skin deeply and let it glow
Resurfacing Velvet AHA Exfoliator with a unique gentle micro-dose AHA acids uses the power of lactic, glycolic and citric acids to the maximum
while remaining very gentle on your skin. It carefully cleanses and loosens clogged pores, unifies uneven skin tone. This effective exfoliant deeply
restructures the cells. The result is perfectly smoothed and softened skin.
PARABEN free, PEG's free, DIMETHICONE free, PHENOXYETHANOL free, PARAFFIN free, PETROLATUM free
Need to soften and smooth your skin? Add Exfoliation with mild AHA acids to your home professional treatment of your skin cells.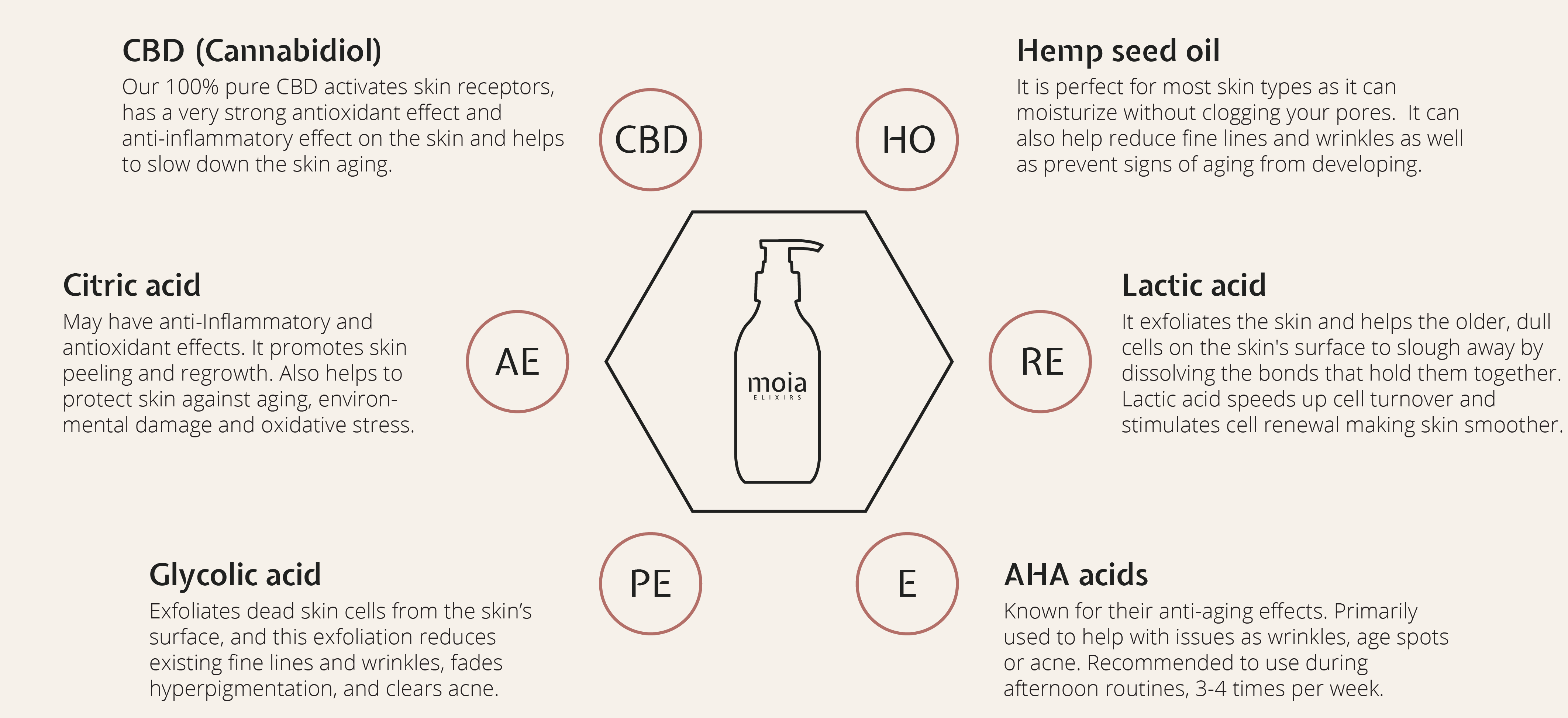 We recommend using in targeted treatment:


6 steps to perfection


How to achieve professional home skin care in six steps?



6 steps to perfection :


------------

1) Gentle Micellar Cleanser 100ml
Apply a sufficient amount of product on a cosmetic tampon and cleanse the skin. Suitable for all skin types with a gentle exfoliating and brightening effect.

2) Resurfacing Velvet AHA exfoliator 100ml
Apply a sufficient amount of gel to the palms (3-4x pumps), gently apply to cleansed skin, wait 3-5 minutes and then rinse thoroughly with lukewarm water. Use for evening care. Use 3-4 times a week.

3) Microbiome Rebalancing & Brightening toner 50ml
Spray a sufficient amount of the product (4-5x spray) directly on the skin (try not to waste sprays in the air, you can apply the spray to the skin, this is a valuable product that you only want on the skin) and spread and treat the skin with a circular movement of your fingers for a while wait tonic is beautifully absorbed.

4) CBD Nano Fiber Mask 4pcs
Apply to cleansed and toned skin. Apply a white film of nanofiber mask to the skin and smooth it out. Moisten the surface of the mask with wet pads or water spray and wait. After 7-15 minutes, remove the mask and enjoy the result of your beauty. Use 2-4 times a week.

5) Beauty Age Cream 50ml
Apply a thin layer of cream to cleansed and moisturized skin with gentle swirling or tapping.

6) Finishing Silk Serum 30ml
Apply 3-5 drops of serum after applying the cream on the face, neck and décolleté with gentle smooth movements. You can also use it together with the cream and massage it beautifully into the skin.
More information
Effects:
CBD activates the natural abilities of cells
CBD positively stimulates skin cells
CBD leads cells to total skin rejuvenation
Cleans and loosens clogged pores
Removes dead skin cells
For healthier and more beautiful skin
Improves overall skin structure
Brightens skin and unifies its tone
Smoothes fine lines around eyes or lips
Minimizes potential irritation
Velvety feeling on the skin
Prepares the skin for the next steps of care
Active substances:
CBD 10mg

Citric acid

Lactic acid

Glycolic acid

Hemp seed oil
Application:
Apply a sufficient amount of gel to the palms of your hands, gently massage into damp skin and then rinse thoroughly with clean water. Use for evening care.
The gel increases the skin's sensitivity to sunlight. Do not forget about SPF cream with regular use and for a week after.
INCI:
Aqua, Glycerin, Glycolic acid, Lactic acid, Sodium magnesium, Silicate, Citric acid, Cannabidiol, Tocopherol, Cannabis Sativa Seed Oil, Capryl Glucoside, Glycine Soja Oil, Phenethylalcohol, Xanthan gum, Caprylyl Glycol